The 2003 Baltic Expedition
Before starting on the voyage, I got an email from John D., Doctor of Forestry, telling
"Hi,
I'm very envious - we've often talked about travelling down the Via Baltica!! Have a nice trip. Regards to Kristina.
John"
For his benefit, I decided to make some notes during our trip. I'm myself from Åland Island in the Baltic Sea, and I wanted to acquaint myself with the southeast coast of that sea, and naturally compare to Ålandian circumstances.
We, my wife Kristina and I, went by car and not much preparations are needed: passport, "Green Card" (traffic insurance certificate), and some maps (we bought a thin German guidebook containing also maps of the major cities), Euros and a credit card. Russia is another matter; we needed visa and Russian traffic insurance (from Inga-Nord Company). We made no advance reservations, but for the car ferries Helsinki-Tallinn and retour Rostock-Hanko (Finland).
Tuesday, June 3, 1993: Tallinn (Estonia) is only 90 minutes away from Helsinki by ferry. We went first eastwards along the northern Estonian coast to Lahemaa rahvuspark.The seashore waters at Suurpea were shallow and stony with dilapidated remains of the Red Army:
At an abandoned Russian military pier we asked a local guy how long it had been in disuse. He told since 1992. How could it decay so much in a decade? He shrugged and told it never been in very good condition. The next historical monument was a reminder of another former suppressor of the Estonian people:
The baroque Palmse Castle earlier housing German feudal landlords. Lunch break at Viitna, following an "Insider Tipp" from the German guidebook: "...bei den Einheimischen sehr beliebte preiswerte estnische Restaurant Viitna Kõrts." Sound German food in a rustic German Bierstube interior. Yet, it seems advisable to skip over "Insider Tipps" if you happen to have a German guide book. Only one other table was occupied. It was by a large German group. German tourists have the peculiar habit to buy all their food at home before the trip and eat it in the car. They were all having a small beer, nothing else. But, then one of them asked for the Menu! Oh, no, merely to check he was not overcharged on his beer. All the houses in Balticum have big piles of carefully stapled firewood in their backyards. The evening and two nights were spent in Haapsalu at the western coast. Hundred years ago, Haapsalu was (like the capital of Åland, Mariehamn!) a fashionable seaside resort. Now the waters are shallow, muddy and overgrown by reeds (in Haapsalo that is, NOT on Åland). Walking along the promenade, we found that Tschaikovsky spent vacation here; there was a "Tschaikovsky pink" where you could sit down and listen to his fifth symphony. We passed the museum of another composer we never heard about, Cyrillus Kreek. It turned out that no Estonian knew either. The local music shop offered us Grieg when we asked for Kreek. The Haapsalu Kuursaal had excellent caviar and a violinist in a spacious Victorian hall. The wine belied the Guide book's Insider Tipp about Baltic countries: "Wirklich gute Weine sind ein Rarität". OK, if you long for a really sweet Mosel to your fish, that may be right. But the wine cellar was stocked with good French wines to half the Finnish prices.
Wednesday, June 4: We forgot to pack the toothpaste and bought an exotic brand in the Kaubamaja. The paste itself was spotted with all the seven colors of the rainbow and had a muddy taste (made by Procter & Gamble, UK). Visited the Rannarootsi Muuseum dedicated to the former Swedish speaking population on western coast and islands of Estonia. During World War II, most of them - about 8000 - fled to Sweden. Under the Soviet time the Swedish language was banned. The last place the Swedish language was upheld was on a smaller isolated island Ormsö (on the map called Wormsi). The tourist information warned us to go by car to Ormsö, as the ferry is small and there is no guarantee it can take us back in the evening. Instead they recommended renting bicycles and even provided a map with a suggested bike route. The Swedish village names are preserved on Ormsö, the harbor is at Sviby (the western harbor of Mariehamn is also named after "Sviby", here named after an Ålandian village):
The bikes had 21 gears and NO back-pedaling brake. After a sharp turn I ended up in a ditch, because the bike did not slow down in spite of desperate back-pedaling to moderate the speed. Along the bike route, there were nice signs with bicycle symbols, so it was easy to find. Otherwise it would have been difficult, because it did not look like a customary bike road. The bike roads on Ormsö are partly gravel roads made of hen's egg size stones and partly tractor roads with deep wheel tracks with a narrow high ridge in between. There is only one place providing food, the boarding house Elle-Mall, so don't miss it. The Estonian islands are all of sand. The shores are shallow and reedy. Only the many junipers reminded of Åland. We could find only one pier with three small motorboats with outboard engines. No boats to be seen on the waters anywhere. The suppressor here under feudal time was a Swedish family for a change:
Only a large abandoned cowshed is left to memorize the von Stackelberg family. Back to Haapsalu.
Thursday, June 5: A bigger ferry to Dagö (on the map Hiiumaa). The northernmost cape, Tahkuna, has a lighthouse and an Estonia monument (you may remember the Estonia shipwreck) with fresh primroses in a jar. Anemone sylvestris (Tovsippa) along the road. I have to admit they are bigger and more spectacular than the Anemone nemorosa (Vitsippa) that correspondingly decorates the landscape at Åland. Lunch at the restaurant Liilia. The pork was served with sauerkraut spiced with juniper berries, delicious. A good use of a local spice. It must be introduced to Åland too. The ferry from Dagö to Ösel (on the map Saaremaa) was small, the kind to be used over narrow protected sounds. Here it is used on open sea, happily calm this time. Close to Ösel, we saw a small motor boat out on the waters, the first on the whole trip (In Åland we would already had seen hundreds). The town at Ösel, Kuressaare, had an episcopal castle that I again have to admit beats the Kastelholm castle at Åland. A large music shop, but no Kreek. Light dinner at restaurant Vanalinna, also here a good idea: cheese and fruit salad with a creamy banana-flavored sauce. Excellent assortment of wines.
Friday, June 6: Kuressaare market had for sale a kind of pike with a long snout (I guess "näbbgädda" in Swedish) not seen on Åland in edible size. The local souvenirs were made of juniper, a springy and fragrant wood also used a lot in Alandian handicraft. Bought a kind of pliers to serve salads, that made an innovative use of the juniper springiness, to show crafters at home. Wanted to buy a pair of socks made of dog's wool, but they were too small. Finally somebody had found a good use of dogs. Now we booked accommodation for the night in advance from a travel agency, as Kristina thought it too adventurous to arrive to Riga Friday afternoon without someplace to live. On the way to the ferry we passed Kaali with a sign Meteoriidikraatrid:
It was a spectacular round pond with a high earthen wall around in the middle of a flat landscape. We bought a book on meteorite impacts by the author herself, Reet Tiirmaa from the Geological Institute. According to the book, this meteorite crater is 110 m in diameter and is 7500 years old. But from the book could be learned that the impact formation Lumparn on Åland is bigger and older, 10 kilometers and 1000 million years respectively. The former von Gahlen baroque mansion in Kaali was now rebuilt to a schoolhouse in Soviet style. The ferry back to the mainland was named Scania and had obviously been in the Sweden-Denmark route long ago. Now at last we joined the Via Baltica (E 67) along the eastern shore of the Riga Bay. The road is very good indeed, as signs tell us, it had been improved using EU taxpayer's money. It's not much to see; you drive in a green tunnel of mismanaged forest, a mixture of trees and bushes. Sight depth about 10 meters. No nice farmsteads. Some abandoned fields. Now and then, in the middle of nowhere, some 3-4 store prefab concrete houses of the model you can see in some cheap suburbs. Mostly abandoned and always in a bad shape. Memories of the soviet time kolkhozes (collective farms). The border crossing to Latvia was easy. Making small detours to the shore, we could see kilometers of perfect sand beaches and no reeds. In Riga, our hotel was in the old town. It is full of beautiful old buildings, especially Art Nouveau (Jugend), because Riga was not bombed during the war and afterwards there were no money to "modernize". Compare to the unfortunate fate of Helsinki, where the Finnish architects finished the job of the WW2 Russian bombers. Riga has a Swedish history, around 1600 it was the largest Swedish town. Dinner in a cavernous medieval brick cellar under the Small Guildhall. As long as you concentrate on the buildings, there is an atmosphere in the Old Town. On the other side, it's completely touristico. In the restaurant were Americans (with badges for a neurosurgical congress), a German group, some Russians and a couple of Finns (us). No locals. Loud pop or disco music, the plague of nearly every Baltic restaurant. Insider Tipp from me: bring earplugs. At a bar we found out that the Latvian champagne (made from apples?) is inexpensive and refreshing.
Saturday, June 7: Another Insider Tipp from me: If you like a nice coup of tea for breakfast (which supposedly an Englishman does), bring your own tea bags. Some too efficient salesman has persuaded all Baltic hotels to purchase pathetic wooden boxes containing assorted fancy teas: hibiscus, raspberry, chamomile, etc. Riga's Central Market is spectacular, five gigantic halls, each dwarfing the Helsinki market hall and overflowing with fresh products. A Latvian seeing Helsinki market hall would pity the poor starving Finns:
One of the huge halls is just for meat in all forms.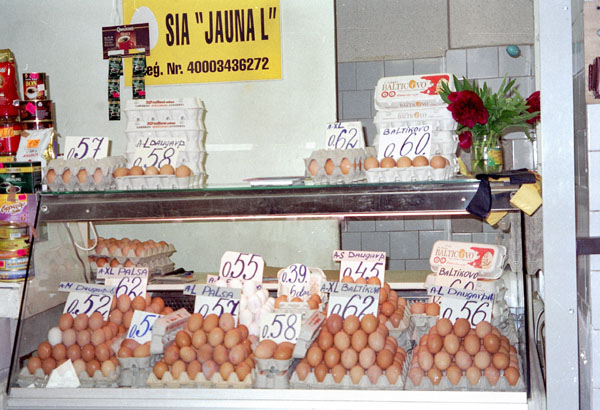 Eggs are not simply eggs, but there are many varieties to select from. All kinds of fish. ("The huge structures were brought to Riga at the behest of Karlis Ulmanis, graduate of the University of Nebraska's agriculture faculty (!) and, later, benevolent dictator of Latvia"). We could not resist the fresh strawberries, ripe and heavy. The Museum of the Occupation of Latvia 1940-1941 exhibits First Soviet Occupation 1940-1941, Nazi Occupation 1941-1945, and Second Soviet Occupation 1944-1991. The titles are straightforward: Destruction of Statehood, of Latvian Army, of Economy etc. and Russification, Sovietization of Environment. An explanation to the prefab kolkhoz buildings in the countryside: They were all built after the same model taken from a suburb in Moscow, and housed one family per room with a common kitchen. An outspoken dose of Latvian recent history. Between the lines could be read that the occupants could find cooperating Latvians. Entrance free, but the tourists are elsewhere. Only a bus-load of Norwegians was stopping to use the washrooms. All the guidebooks recommend the Art Nouveau buildings around Alberta Street by Russian architect Mikhail Eisenstein, father of director Sergei Eisenstein.
We found those buildings overdecorated and lacking the Jugend elegance. The facades have had a face-lift, but a closer look shows the buildings were not in use with doors crudely boarded up. We found some other buildings (in Finnish style Jugend) more appealing.The building of the Theater Museum (on Strelnieku to the right from Alberta) had no facelift yet, but a marvelous staircase:
An extra bonus: we got out of the Old Town and could have our dinner at an outdoor restaurant frequented only by locals. They eat well.
Sunday, June 8: Left Riga and E 67 for the Baltic coast. Many storks (we don't have them on Åland) and we tried repeatedly to photograph a stork standing in its nest at the top of a telephone pole or a building. But every time we stopped the car, the stork sat down and looked over the rim of the nest. I even tried to quack like a delicious frog to get it up but then it ducked out of sight completely. Storks are photo shy. To spend our Latvian money, we wanted to eat before the Lithuanian border. I promised Kristina a place with at least "three chef's hats" in a rural milieu. The place was found in Nica close to the border. The border procedure was swift, only you have to buy a special traffic insurance for Lithuania there. Our goal was the narrow peninsula of Neringa (The Curonian Spit), a sandbank separating the Curonian lagoon (Kurisches Haff) from the Baltic Sea. The ferry from Klaipeda to the tip of Neringa was difficult to find; no signs whatsoever. A moderate environment preservation fee to enter the road on Neringa.
The road to Neringa has no traffic warning signs for wild boars (vildsvin). Our apartment style hotel in Nida (at the middle of Neringa) was the neighbor to Thomas Mann's former summerhouse, now a museum. The Baltic side of the spit had all the way a beach of clean and soft sands. Found my Ålandian favorite flower, Solanum dulcamara (Besksöta, "Bittersweet potato flower"). The waters on the Curonian side were shallow and reedy, in the harbor some fishing vessels and a marina.
Monday, June 9: Continue along Neringa. The Russian border control (we were now entering Kaliningrad enclave, former Königsberg) is quite elaborate. Our data were entered to a computer three times in three different sheds. In the first shed we got a slip of paper that was stamped at each shed. One female official had great difficulties with our home address, obviously she could not find "Stora Robertsgatan" in her registers. A jovial German fellow sufferer in a rented car told us to be patient and accept the local habits. And after one hour we were through. At the last shed the slip was collected by an official checking we got all the stamps. The environment protection fee on the Russian side was 30 Euro! Where the money goes was hard to see, on the Lithuanian side there were at least efforts to take care of the forest and some good biking roads were built. A policeman was standing 15 meters after a stop sign, he too showing a hand held stop sign. Naturally Kristina, who was driving, stopped at the policeman. He pointed out that she should have first stopped at the stop sign. He told Kristina: "Strafe!" Quite a clever trap to get some money out of people in foreign cars. Kristina was so upset that she wanted to hit the guy. I went out and talked nicely to him with many "Bitte, bitte" and he let her off the hook. Yet, you may wonder what Putin would say if he knew how border officials and police are shaming the Russian State. On the road to Kaliningrad, a lot of villas could be seen, probably built for officers, some unfinished and most of them abandoned. Stopped at the central island in Kaliningrad. Met again the jovial German, he presented us for some local friends as "A couple he had known for a long time - at the border". Investigated and documented the Königsberg bridges made famous by Euler. Found that Euler's problem was solvable, because two of the bridges are no more. (For details on Euler's problem, use BACK button). The road from Kaliningrad eastwards is bordered by old trees, ash-trees and chestnut. Oilfield pumps could be seen beside the road. Border procedures took two hours this time. The Lithuanian country side more alive than in the other Baltic States, no kolkhoz buildings. Obviously, Lithuanians did not cooperate with their occupants, making also the number of Russian immigrants smaller. Possibly for historical reasons, Estonia and Latvia has always suffered under foreign powers. The streets of Vilnius (Vilna) were mostly one-way making navigation to find a hotel in the center difficult. We made an exception, and had our dinner in the hotel restaurant. It was named "Rossini" and was the first Baltic restaurant we met with decent music (discrete opera). The laundry service removed successfully the grass stains on my khaki trousers, memories of the biking adventure at Ormsö.
Vilnius is a city of many contrasts, such as a bridge with social-realistic sculptures with both an old church and a new hotel building as background. Half of a church showed the dilapidated past and the other half the completed facelift (probably using modern unsuitable plastic paint because it had already started to peel off). Some churches were restored also inside, much on the flamboyant side. Visited the KGB museum, officially The Museum of Genocide Victims. It is in the KGB building, and the prison part is preserved as it was left by the last Soviet security agent in 1991. Strong emotional impact. The prisoners were obviously not directly tortured, but using solitary cells (even padded cells), sleep deprivation (always burning lamps, nightly interrogations), physical mistreatment, no legal assistance, no contact with the world outside, keeping for an indeterminate time, the prisoners were mentally broken. After a visit to this museum, it is ironic to read in the newspapers that United States is using today precisely the same KGB methods against their "terrorist suspects" (or "enemies of the state" in KGB lingo). To be fair to USA, the KGB prisoners were allowed to shower only once a month (and the guards amused themselves by turning on hot and cold water alternately). According to press reports, the Americans allow showers once a week. Surprisingly we met Finnish friends in the KGB basement, a couple where both are professors of chemistry. When I boasted of solving the Königsberg bridges problem, they told me it was the Russians that did it by tearing down two of the bridges. The market place was shoddy, and turned out not to be worth visiting. A contrast to all this: the discretely luxurious restaurant Ida Basar with venison and William potatoes (pear shaped croquettes in a shell of fried almond chips, nutmegs for shaft and end button). No guidebooks got the internet cafés right, we found a really stuffy one by chance. Later found that the main post office provides internet service. The Lithuanian Music Academy had the examination period. The examination concerts are high class and free, and are listed in local newspapers. We were listening to two pupils, one on oboe (Robertas Beinaris) and one on flute (Giedrius Gelgotas). The flute-solo I. Clarke: "The Great Train Race" was both impressive and funny. Again, the place not easy to find, no signs and an elderly janitor denied there would be a concert and tried to send us away.
Wednesday, June 11: The traffic law enforcement is vigilant. An unhappy young British tourist in the hotel lobby: "They have clamped my car, what shall I do?" Also we had seen several speed controls with radar pistols on the Lithuanian roads. The drivers from the opposite direction flash warnings with their headlights, a courteous local habit. The road from Vilnius to Marijampole was the first beautiful rural road we seen on our trip, hilly cultivated fields (crops and hay), cows and good-looking farmsteads. A lot of lupines and poppies, certainly a nuisance to the farmers, but beautiful. At Marijampole we join E 67 again, and the same pleasant views continue to the Polish border. Before the border, we tried to get rid of the Lithuanian coins. We bought some fresh bread in a roadside shack, but it did not help much. In a village shop, we found a cheap Lithuanian brandy that matched the remaining coins. The Lithuanian-Polish border worked quite slowly, the truck queue was about a kilometer long. The cars passed through in a reasonable time, but the customs inspection was thorough. Kristina read a poster with everything that was forbidden goods, and found alcoholic beverages was an absolute no-no. Our baggage held one bottle of cognac and some champagne piccolos (both from the Tallinn ferry tax-free), one bottle of Latvian champagne and one of Riga Balsam (both souvenirs) and the Lithuanian brandy. The customs officer had me to open the trunk and he asked: "Tobacco or alcohol?" I answered "No" with a mental reference to the first product category. (Alanders, as most islanders, grow up in an environment with a flexible attitude to smuggling). Somehow I got nervous, anyhow, and tried to drive away without closing the trunk. In Augustów we left E 67 for the last time, going in direction Olsztyn. The rural landscape in Poland is still more picturesque than in Lithuania. The road meanders through village after village. Our thick Polish guidebook (remaining from our Polish trip ten years ago) gave a mouth-watering description of a restaurant in the French-Polish Society building in Olsztyn. Regrettably, the information was outdated, we found the Society but the restaurant was not there anymore. We were hungry enough to rush over the street to The Corner Café with a Wild West inspired interior. Happily the venison was good (again) and the public was local, indeed. A quick look at the castle where Copernicus lived and worked for some years, and then up to the coast. The goal was another long sandbank forming a spit, Mierzeja Helska. According to our guidebook, there is no regular accommodation on the spit itself. We thought that information must be outdated too, but it wasn't.
Luckily, there was a Szkola Windsurfingu (www.boardschool.com.pl), which provided convenient rooms with balcony and IKEA furniture. It faces the inner side of the bank, and the waters are shallow indeed. Hundred meters out it is still knee-deep, which simplifies to board the surf board after capsizing. Regrettably, there are no photos of me out surfing. In the evening we could see the lights on the other side of the bay and sip smuggled champagne.
Thursday June 12: After a 100-meter walk through the woods we are on the seaside of the bank. All sandy beach, clean and soft:
The bank must be defended against erosion from waves and wind. The Polish-German border as easy as the Finnish-Estonian border, easier than all the other borders. In both cases we were practically waved through. Paradoxically, as they were the two Schengen borders we crossed. The goal was the German town (in the former DDR) Stavenhagen (pronounced as Schtafenhagn). It is the birthplace of my childhood favorite author, Fritz Reuter. A humorous writer I would put alongside Dickens. I guess you never heard of him, and the translations to English are all old and rare. Not even my friends and colleagues from Western Germany did know about him. The locals are proud enough to rename the town "Reuterstadt Stavenhagen". Found Hotel Kutzbach at the central square. Many old two-store "Tudor" (korsvirkes) houses in the town. Again a contrast between the former regime and new times, some houses are in bad shape and some are recently restored but in some cases with modern window formats and aluminum window frames (praktisch und hygienisch, aber nicht estetisch).One dilapidated house auctioned away:
The minimum bid 2000 Euro. Insider Tipp from me: to fit in, never order merely a beer, order "Bier und Schnapps". From the hotel window we could see the rehearsal of the program for the weekend's Reuter Festival. One guy had a high hat to mark his role person, but white T-shirt and white shorts. Probably he will appear in dark suit and high hat at the performance. Also, we could finally photograph a stork. It come late at night and sat on a house gable just outside our window. The nightly photo turned out to be fuzzy.
Friday, June 13: We found out the stork had its nest just on the chimney just above our hotel window.
It was an urban stork, not camera-shy. The host and hostess had been to Naantali in Finland. They regretted that the only foreign language they were allowed to learn at school was Russian. The Fritz-Reuter-Literaturmuseum was well organized. Fritz Reuter spent seven years in jail (from age 23 to 30) for political activity. It is remarkable that he had the strength after that to write humorous novels. We left for the coast, towards Stralsund, a town with a Swedish history surrounded by water and a preserved town wall. Had lunch just outside in a country inn with excellent wild boar. Then to the ferry at Rostock! Optimistically I thought there would be clearly marked how to find the harbor. No, not a sign. We ended up at the wrong side of the bay, but our rescue was that there is a car ferry across the bay. We arrived in time to the Rostock-Hanko ferry. The restaurant on board served the duck with the sauce flavored by cloudberry (hjortron) instead of orange. Full moon and clear skies.
Sunday, June 14: Long sleep in the morning. This rhythm to travel is advantageous, to finish off with a relaxing 22 hour ship voyage. When we arrived to Hanko (Hangö), the pilot came onboard from a little boat. I had thought this doesn't happen any more. Hanko is on a peninsula made of gravel and sand. On the way to Helsinki, it was quite shocking to see the road cutting through rocks. We had not seen rocks on the whole trip! How different the geology can be on different sides of the Baltic Sea.
---
Contact: jankahre (at) hotmail.com